The death of radio has been predicted many times in the past decades but guess what? Radio still isn't dead. On the contrary, it's booming. It's true people may not own as many radios as they used to but on the other hand, they are carrying this century's version of a transistor radio – their smartphones – around with them in their pockets. And these magical listening devices give people the chance to hear a huge variety of radio shows and podcasts when and where they want to.
But besides new convenience, it's also the extraordinary quality of many new radio programs that's causing people to tune in to radio again. onMedia's Kyle James takes a look what is being considered a new golden age of radio.
read more
With their focus on local news and local issues, community radio stations can play a crucial role in providing independent information to communities. Localized content is vital regardless of whether an area has an established media landscape or is in a post-conflict situation with newly developing media.
DW Akademie project manager and media consultant Rüdiger Maack works closely with community stations in Tunisia where he is based. Maack shares some tips with onMedia about how community radio stations can increase their viability.
read more
The elections in Sierra Leone in November 2012 marked another important test for the country's democracy and stability some ten years after the end of its civil war.
To help provide accurate and impartial coverage of the elections, local radio stations and international partners worked together to produce IRN – the Independent Radio Network. This temporary cooperation gave many Sierra Leoneans across the country access to up to date and independent election reporting. DW Akademie's Kate Hairsine was one of the international trainers mentoring IRN journalists and looks back on how this innovative network covered the elections.
read more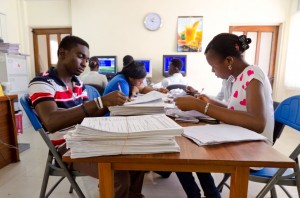 What is your most preferred radio station? At what times do you listen to radio? And what topics are you most interested in hearing on the radio?
If you're living in one of the Ghanaian cities and towns with broadcasters participating in the new Our Radio! project, somebody might come to your doorstep to ask these questions. Audience research is underway.
A total of 1700 interviews are being conducted, two to three hundred in each of the regions where one of the nine radio station partners in the project is located.
Trained research interviewers have a questionnaire with around 50 questions for randomly selected respondents designed by the research organization Pragma Solutions. It was tailored to the needs of the radio stations by station managers at a research workshop held in May.
read more
Audiences sure can put anchors to the test. They tend to listen to good friends for a long time, even when their buddies' stories are rather boring. But when you are moderating, they rarely pay close attention.
Frequently they're busy doing something else, are impatient and fidgety. Sometimes they even leave you with no word of explanation. And if they do return their attention to you, they expect you to be as friendly and courteous as if nothing had ever happened.
Of course that is exactly what you will do without a trace of resentment. Here's how:
1. Be a good interpreter. Convey and explain complex subject matter in a way that listeners can easily understand.
2. Be a good spokesperson. Pose questions as if you are representing the listener. You'll come across best when your listeners have the feeling that they would have asked the very same questions.
3. Be prepared. Being well-prepared is half the battle. Read the newspapers every day and stay on top of the latest.
read more
There are about 80 million migrant workers worldwide. We often hear that they have a positive impact on the global economy. For instance, 12% of Bangladesh's Gross Domestic Product (GDP) is generated by citizens who work abroad in countries such as Bahrain, Saudi Arabia and Malaysia.
But researchers like Kalinga Seneviratne say that labor migration from Asia has many hidden problems.
Mr. Seneviratne is the head of research at the Asian Media Information and Communication Centre (AMIC) based in Singapore.
At the Deutsche Welle Global Media Forum in Bonn this summer, Kalinga Seneviratne and other experts discussed how the media can tackle issues pertaining to labor migration.
Talking to Deutsche Welle reporters, the award-winning journalist explains some of the problems migrant workers face, the challenges journalists encounter when reporting such stories and how the media can play a major role in promoting human rights.
Interview with Kalinga Seneviratne
read more