Tools and Apps for Journalists: TimelineJS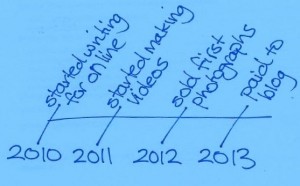 Timelines arrange events in chronological order. From learning about dinosaurs or the order of kings and queens at school, at some stage you would have stumbled over a timeline. The point of a timeline is to make it easier to understand when things happened.
There are plenty of Internet tools to help you create a timeline, but one tool that is popular with media organizations is TimelineJS.
What is TimelineJS?

TimelineJS (Java Script) lets you easily link to different multimedia sources. So as well as text, you can include videos from YouTube and Vimeo, audio from SoundCloud, photos from Flickr, Tweets, Googlemaps and Wikipedia entries and more. Scribd is also useful for including text documents.
Other media are regularly added so check with the TimelineJS website to see what else they support.
As a result, TimelineJS makes it easy to visually show events and the interactivity means users can explore further if they want to.
How can journalists use TimelineJS?
Timelines can be used to show the chronology of any event, from the history of the struggle for Apartheid in South Africa to post-election violence in Kenya. To give you an idea of what it is all about, I created a short timeline showing the first West African countries to gain independence.
As you can see in our example, the slides incorporate video, audio, photos, Wikipedia entries and a Tweet.
If you or your media organization follow a story over a period of time, you can also use your own text, photos, audio and video linked together in a timeline.
While there are no limitations on what you can use the tool for, as it says on its website, TimelineJS is best used with short texts and "strong chronological narratives. It doesn't work well for stories that need to jump around in the timeline".
Several news organizations have used the tool to present information about murder or missing people cases that are otherwise overwhelming in detail. For example, the small Salt Lake Tribune did a great job of putting together an interactive timeline about the disappearance of American women Susan Powell. Compare it with a text version.
The Knight Lab have a list of examples of how journalists and news organizations have been using the tool.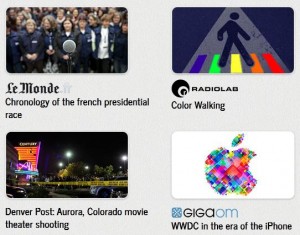 Here are also other examples from TimelineJS (not necessarily journalistic ones).
How can I create a timeline?
It's very easy to make a timeline with the Google spreadsheet template provided by TimelineJS. If you don't already have a Google account, you will need to sign up for the service (you can do this with any email).
You fill in the spreadsheet with your dates, text and links.
IMPORTANT – I originally had some problems getting the dates to work in the spreadsheet. This is because they have changed how the dates are read by the TimelineJS tool. All you need to do is click on the A column, then open the Format menu → Number →Plain Text.
You can see the spreadsheet I used to create the West Africa Independence timeline here.
More details are on the TimelineJS site or watch the tutorial below.
What else should journalists know about TimelineJS?
Cost: The software is free.
Support: There's an excellent TimelineJS google discussion group where you can get help and support.
Languages: The software is currently available in 41 languages, including French, Portuguese, Afrikaans and Arabic. Click on the 'More Options' button in Step 3 to get to the language options.
WordPress: There is a WordPress plugin available.
TimelineJS was developed by Zach Wise, a photojournalist and multimedia producer who is currently an associate professor of journalism at the Medill School of Journalism at Northwestern University. Wise is also a former staff member of the New York Times multimedia team.

Author: Kate Hairsine
Leave a comment