Tools and Apps for Journalists: Findery
What is Findery?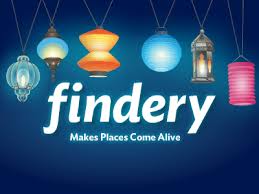 Think of maps and digital Post-It notes. Findery lets you pinpoint places on a map where you can leave simple multimedia notes for other people to discover and share. Notes are mainly text, but can also include audio, video or a photograph from Youtube, Vimeo, Flickr, Instagram and Soundcloud. Findery is also social. You can follow and like other users or the locations where they have left notes and have a conversation about a place.
How can journalists use Findery?
Notes could be stories. Journalists could use Findery as a platform for producing and sharing their stories. Findery notes might be attractive as a digital space to publish or re-post stories about a particular location.
In a way Findery reminds me of the BBC World Service Save our Sounds project from a few years ago. Listeners were asked to upload audio files to map of the world.
Take a look at the example we produced about a fire in a government office block in Freetown, Sierra Leone. Along with a brief text story that gave the essential details, we used a video clip to illustrate how firefighters were struggling to contain and put out the fire.
But before you start getting too excited about producing elaborate multimedia stories bear in mind that you can only embed either one photo or one type of media into your note. This is a bit limiting. Findery says that may change in the future but it's not currently "on our roadmap".
If you're producing a lot of notes you can organise them under sets, or create keyword tags. This might be useful if you're producing a lot of notes about a particular place.
As it evolves Findery could also be a research source drawing upon the information and stories people share in their notes about locations. For example, if you were researching punks in Berlin, you could enter a search for "punks+berlin" to see if there are any specific or relevant notes.
Perhaps going a step further, journalists could also leave a note on a location requesting users to help gather information or stories about a particular place.
And there is also a Findery Directory where users are curating and collecting notes on particular places, people or ideas. This is something we like.
What else should journalists know about Findery?
Costs: Findery is free.
Sharing and embedding stories: You can share Findery notes via Twitter, Facebook and Google+. Findery also generates an iFrame embed code for websites and blogs. From their FAQ:
"The iframe defaults to 500 x 400 pixels with a single pixel grey border. If you're comfortable editing HTML, you can change the size, border width and color to suit the design of the site you'll be displaying the note on."
Languages: Findery uses the UTF-8 coding so most major language characters should work. The interface is currently only available in English.
Are you using Findery in your newsroom? Send us some examples via Facebook, Twitter or in a comment below
Author: Guy Degen
Date
Wednesday 2013-06-26
Leave a comment