Tools and Apps for Journalists: ThingLink
What is ThingLink?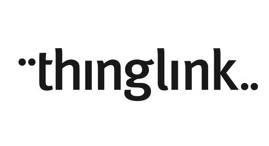 Add extra layers of information to images by adding links.
Thinglink lets you embed "tags" – hyperlinks and text – into images. If you have a great photograph or image you can add a link to another photo, or a website, or video clip, or audio clip – literally anything. It's a very useful tool for creating simple pieces of interactive media to compliment a story or to use as a basic story platform. This tool is always a winner with participants in online journalism workshops. As we roll our mouse over a "tag" revealing a link to another piece of media, there is usually a collective "Aha!" from participants. And if you're a regular reader of onMedia, you've probably noticed that we like to use this tool a lot.
In a much cited example here in Germany, the Berliner Morgenpost used ThingLink very effectively with a photograph of the White House Situation Room during the raid on Osama bin Laden's hideout. The icons identify who was in the room and provide relevant links.
ThingLink is used by a number of leading media houses in different ways. For example, take a look at how the Washington Post uses ThingLink for interactive frontpages.
How can journalists use ThingLink?
Open up a newspaper or magazine and you'll often see that print media uses the classic technique of pointing to objects within an image to identify them for readers, or to perhaps offer a brief explanation of their purpose.
With ThingLink you can do the same, and more. Simply press "Create" and upload an image to the site in JPEG or PNG format.
Once an image is uploaded, the ThingLink "Editor" dashboard opens and allows you to add an "icon" to the image for users to roll over or click on. You can simply add text the "Description" box and/or add a hyperlink to more content.
There is also "Search" bar to find relevant links to media hosted on YouTube, Vimeo, Soundcloud, Amazon and Etsy.
Take a look at the example below we produced for a blog post on mobile journalism equipment.
Earlier this year ThingLink released a free iPhone application making an interesting app for journalists to produce interactive media on the road.
Within your account, ThingLink also provides useful statistics for your image.

What else should journalists know about ThingLink?
Image sizes: ThingLink scales images down to 1024px. The largest file you can upload is 25MB. If you upload an image less than 130x130px then the editor will not open.
And don't forget, you can also upload GIFs.
Cost: Free. Publishers can opt for an upgrade version.
Sharing: You can embed ThingLink images and there are options to share to blogs and social media networks including: Facebook, Twitter, Tumblr, Edmodo, Google+, Pinterest. This blog post from ThingLink also lets you see how tags from a range of media will display on an image.
ThingLink images also play directly in Twitter and Facebook timelines.
Languages: According to their FAQ's, ThingLink is available several languages including: English, Finnish, German, Russian, French, Spanish, Portuguese, Chinese and Hindi.
Author: Guy Degen
Leave a comment