Useful gadgets for journalism trainers
Fortunately at DW Akademie we have access to professional equipment for training courses and are very well supported by our technical staff.
But along with bringing training equipment such as VJ camcorders, laptops or audio recorders, packing a few travel-size gadgets can help trouble-shoot problems you might encounter during courses and help your participants.
For onMedia, journalism trainer Guy Degen opens up his grab bag of gadgets to make training and life a little bit easier on the road.
The Basics
Each training course is different. I usually add or swap items to suit conditions in different countries. For example, adapters for different power sockets, or a shortwave radio or a torch.
But what you see below forms the basic kit of gadgets I take with me for most training workshops.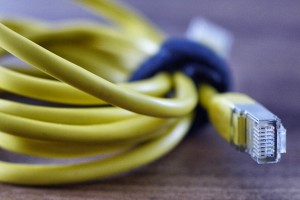 Category 5 ethernet cable
Ethernet cables are great when they work. But think how often you've stared at either a broken cable in your training room or the cable in your hotel room looks like a dog has chewed it. Oh, and of course, hotel reception says another cable is not available and there's no WiFi.
So whether it's a short or a long cable, having a length of standard category 5 ethernet cable can get you or your participants online quickly. A longer cable is useful for stringing up a mosquito net, too!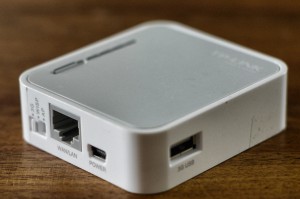 WiFi mini-router
I always bring a small router with me to create a WiFi network. This one from TP Link can connect several devices simultaneously and has literally saved online or mobile journalism workshops when our internet connection has died. You can create a WiFi network either by plugging-in a 3G/4G USB dongle with a local SIM card to access mobile internet, or you can plug in a LAN ethernet cable.
It draws power from a standard USB cable so you can plug it into a computer or phone charger.
I also use a portable MiFi hotspot but the TP Link can also be used on the go with a portable battery pack.
To find out more about this mini-router read an earlier onMedia blog post.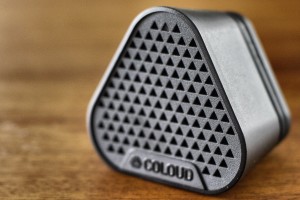 Portable speaker
Speakers come in all shapes and sizes. Lately I've settled on the Bang from Nokia. It's compact, runs for hours, charges up from a micro-USB cable and the volume fills a big room sufficiently. (HT @chippy).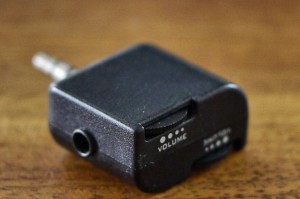 Audio splitter
I bring a few of these with me for training workshops. They're cheap. If you have participants working in pairs, an audio splitter comes in handy for them to review/log recordings together.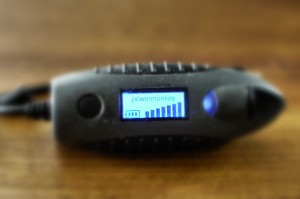 Rechargeable power pack
A small rechargeable power pack is great for traveling to charge up phones and gadgets on the go. I usually take the PowerMonkey Explorer with me. It will recharge a mobile phone to about 75%. It comes with loads of adapters to fit almost any type of phone and other small electronic devices. If you're going really off the beaten track, but at least somewhere sunny, the Explorer also comes with a solar panel to (slowly) recharge the power pack.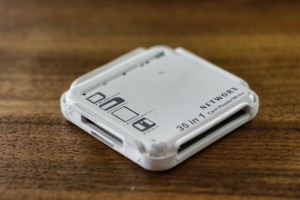 Multi-card reader
SD, micro-SD or compact flash card? If training participants bring their own equipment, who knows what sort of card they are using for storage? A multi-card reader is always good to have with you.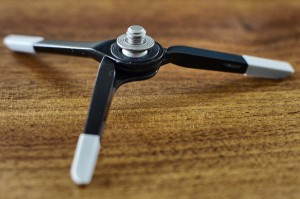 Pocket tripod
I quite often record video with my smartphone or a small point and shoot camera during a workshop. It might be to record an invited guest who offers a press conference style Q&A, or it might be to film a roleplaying exercise with participants.
Having a pocket-size tripod like the Joby Micro helps make recording a lot easier.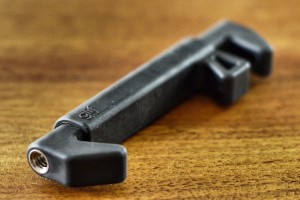 Tripod mount adapter
Of course if you want to record video with a smartphone you need a tripod and a tripod mount adapter. Check out an earlier post that reviewed the Glif (pictured here) and the Shoulderpod S1. Both are excellent, but the slender Glif takes up less room in the kit bag.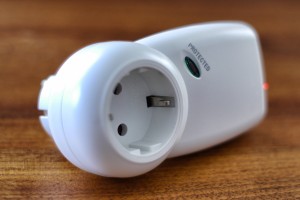 Power surge protector
Power supply can be erratic in many countries. A surge protector is an inexpensive way to help prevent important equipment such as a laptop getting fried when the power suddenly comes back on.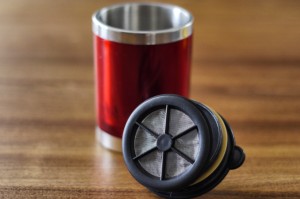 Travel coffee press
I'll gladly swap my double-espresso for a pot of Arabic-style coffee or Vietnamese drip-filter brew, but I draw the line at getting my caffeine fix from a tin of instant coffee. You can find a number small travel coffee presses online. This one is getting on in years, but was the best 10 euros I ever spent. Combined with some fresh-roasted coffee, your co-trainers will thank you for ever. I guarantee it!
Extras
If you've worked with me then you'll know that I have literally every cable known to man. But here are a few extra cables and adapters that I usually bring with me.
VGA & HDMI adapters
I use my iPhone a lot as a training tool – both for screening examples and demonstrating photo and video skills. These adapters are excellent for plugging my iPhone into a large screen TV via HDMI or into a projector via a VGA connection.
If my computer crashes, it's always good to know I can still screen examples and presentations saved on my iPhone or Dropbox account.
Micro-USB cable
I normally have a standard USB cable on hand, but there's always one participant who forgets to bring their micro-USB cable to charge their mobile phone. Having one of these is an easy way to make a participant very happy.
3.5mm to 3.5mm audio cable
I've lost count of the number of times I've been given a set of computer speakers from a partner organization to use in training only to find the audio cable is broken or not working very well. Bring your own as a back-up.
The Bag
And finally, you need a bag for all of the gadgets, cables and adapters. I use tough and transparent nylon mesh bags from Muji. They are very robust and security people at airports can see what's inside without having to unpack everything.
Author: Guy Degen, edited by Kyle James