Search Results for Tag: camera
Equipment: Video Journalist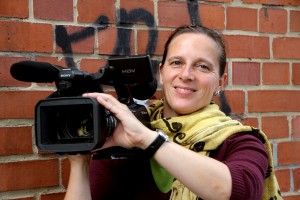 Gerlind Vollmer has been working as a freelance VJ reporter for Deutsche Welle since 2006. She has been working as a project manager and trainer for the Africa team at Deutsche Welle's training center DW Akademie in Berlin since 2009. She takes us behind the scenes and shows which equipment she uses in the field to produce her VJ reports.
"It is important that a VJ journalist remains mobile and flexible. That's why I'm no fan of dragging a heavy tripod along and often leave it at home. I can always find a chair, a table or a wall which can serve as a perfect tripod. On the spot, I'm mostly concerned with everything being at hand the very minute I need it, that's why I always put on trousers with a lot of roomy pockets. Also, a VJ should never forget to put the headphones on while shooting – never ever!"
Foto:Steffen Leidel
Producing a good photograph isn't necessarily about the equipment you use. A camera is just a tool. It's also about the composition, framing and perspective you choose. Here are 10 tips which will help you produce better photographs.
1. See things differently
Perspective is what really makes a difference between a snapshot and a professional photo. Move your feet! Crawl under things, get on top of them, look for interesting angles.
read more
Date
Wednesday 2012-02-01