Tools & Apps for Journalists: Meograph
What is Meograph?


Meograph is a web-based multimedia tool that makes it simple to put together different elements such as video, photos, audio, narration, music, text and links to tell a story. What is especially nice about this tool is the ability to plot the changing location of events on Google maps and to also pin events to a timeline. The final product has similar dimensions to a YouTube video and also comes with a play, pause and stop button. Meograph embeds easily in websites or social media making it easy to share.
How can journalists use Meograph?
Meograph is particularly good for presenting news stories where a sequence of events unfold over time, such as the Boston Marathon bombings. The inbuilt mapping feature means it is also great for telling complex stories stories where events are spread across many regions or countries – think of the Arab Spring.
Created by Molly Hepworth in 2013
Importantly for those who are just starting to create multimedia content, Meograph doesn't require any coding skills or skills in multimedia production. This is one reason why many journalism schools are using Meograph as a digital storytelling tool.
How exactly do I create a multimedia story with Meograph?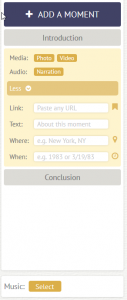 You need to create an account on the Meograph site (you can also log in with your Facebook, Twitter or Google account).
You then give your meograph a title and start by clicking on 'add a moment' – you can think of a moment as similar to a scene in a film or slideshow.
Here's a list of the elements you can include in any one moment:
Video – Meograph only integrates YouTube videos unfortunately. You can either search for a video from the Meograph interface, or put directly paste in the URL of the YouTube video you wish to use. What is great is it's possible to use only a portion of a video, you don't have to add the whole thing. It's easy; just insert the start and end time of the bit you want to use.
Audio – you can directly record up to 20 seconds straight from your computer or else import a mp3 of your own. I found when I directly recordered into the meograph, the quality was terrible, but the fault might lie with my computer. It's important to note that when you upload audio or narration to an individual 'moment', the narration only plays for that segment. If you wish your narration to run across all of the moments, then you should upload it as a music track instead (see below).
Music – you can automatically upload a music track or a narration for the entire report.
Photos – you can reposition the photos in the Meograph viewer and also zoom in and out – which is great because it means you don't have to fiddle cropping your image beforehand.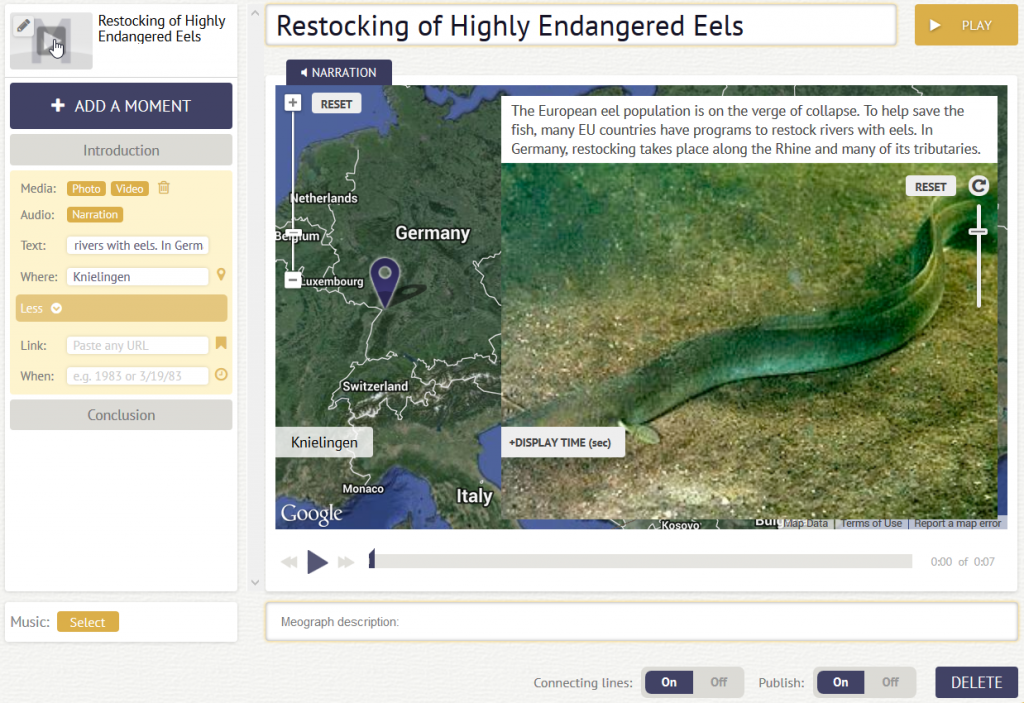 Text – add any photo captions or explanatory text you need.
Locations – you can put in a location that is then shown on a Google map that appears behind your image or video.
Time – you can add dates and times to turn Meograph into a timeline if you want to.
Links – you can add clickable links to any online content.
You can add as many moments as you wish, and if you decide to change the order of the moments at a later date, you can move them around.
What else should I know about creating a Meograph?
I put together the following Meograph on Endangered Eels in a couple of minutes. I cut out the first minute of a radio story I did a while back, uploaded some random eel photos I took while I was out reporting and found a YouTube video to add. I did this to see if Meograph is as easy to use as everyone says. It is.
But just because the Meograph tool is simple to use, doesn't mean my Meograph about eels is any good – it isn't. It's terrible. Regardless of how straightforward the tool, creating good multimedia stories takes time. You need to carefully plan how you are going to construct your story, find or shoot the images or video you need, write your narration and add appropriate text that doesn't distract from the narration.

Other information
Cost: Free
Publishing: Once you have put together a Meograph, it is a snap to embed in a website in the same way you embed a YouTube video. You can also share you Meograph on social media.
Support: There's a chat box at the bottom for support. I sent them a message while I was creating my Meograph but didn't get an answer. You can also try contacting them on Twitter.
Languages: English
Written by Kate Hairsine