Ukrainian fact-checking site debunks propaganda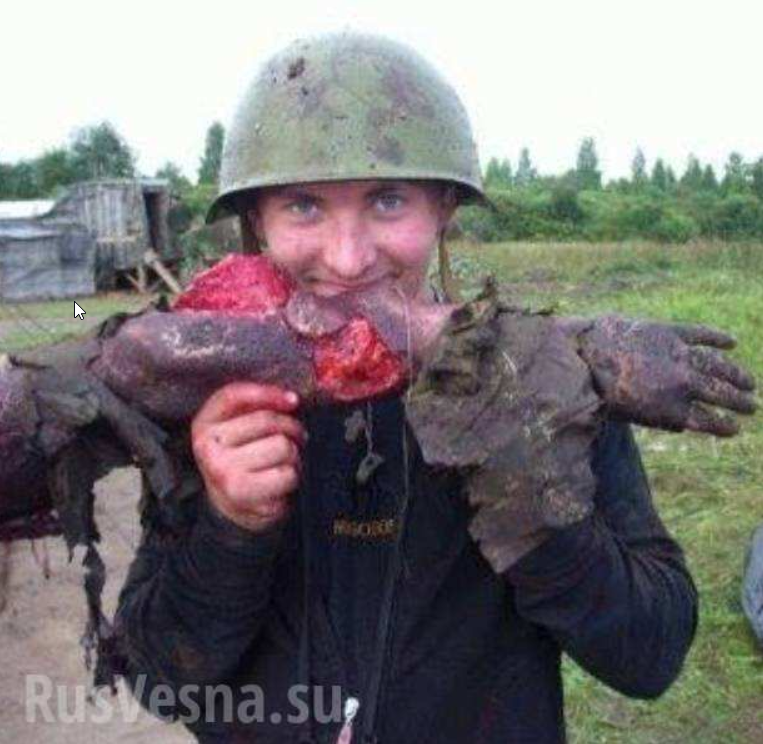 This photo supposedly shows a smiling Ukrainian eating the arm of a dead Russian. It was published on the Russian news site rusvesna.su on June 6 and has been spreading on social media ever since. In reality, the photo is actually a behind-the-scene's shot from the making of a 2008 Russian sci-fi movie, "We're from the future".
It took just a day for the Ukrainian site stopfake.org to published details of the real origin of the photo – one of hundreds of fake reports that the website has debunked since it started in March 2014.
The StopFake site is run by a small group of current and former students from the Mohyla School of Journalism in the Ukrainian capital, Kiev. When pro-Russian forces started to invade Crimea back in February, the school's director, Yevhen Fedchenko, called students and alumni together for a brainstorming session.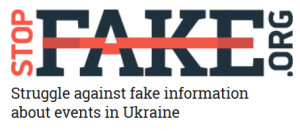 "There was a lot of Russian propaganda and very little hard news," Fedchenko said to onMedia via Skype from Kiev. "One of our students suggested starting a website debunking propaganda, and so we immediately decided to set up StopFake on WordPress."
The amount of disinformation about Ukraine is staggering. Russian media, much of which is state-controlled, has been broadcasting for months what the New York Times has called "bluster and hyperbole, … misinformation, exaggerations, conspiracy theories, overheated rhetoric and, occasionally, outright lies about the political crisis in Ukraine." Other media organizations, from the BBC to the Guardian and Germany's Spiegel magazine have written recently about Russia's "relentless propaganda war".
Because of the sheer flood of Russian-language misinformation, StopFake curates and refutes false claims spread only by Russian media and doesn't examine false claims potentially made by the Ukrainian media or government.
The fake-busting site has proved hugely popular. In its first few weeks of operation, it had 1.5 million visitors and some of the weekly video round-ups detailing the fakes have more than 100,000 views on YouTube.
Verifying images
Photos and videos aren't that difficult to check, says Fedchenko. The journalists working for the site do this by looking at metadata which can reveal the date and location the footage was shot, in combination with search tools like Google or the Firefox add-on, Who stole my pictures?.
"There are pictures or footage supposedly shot in Ukraine which actually come from Iraq, Syria, Mexico and even from Tiananmen Square in China and they were quite easy to debunk," says Fedchenko.
Stopfake.org have even prepared a page with information on how readers can identify a fake for themselves in the hope that people will become more critical about the information they find on the Internet.
For other stories, the journalists rely heavily on that basic journalism skill – fact checking. For example, the Russian President Vladimir Putin recently claimed one in three Ukrainians – or thirty percent of the population – was working in Russia. A couple of clicks through official statistics and Stopfake.org proved – with screenshots – that only seven percent work in Russia. That's a massive difference.
But other rumours are more difficult to verify, says Fedchenko, especially when false information is mixed together with real facts. Earlier in June, a bomb was dropped on story the city of Luhansk. One theory was that it was the Ukrainian airforce, the other was it was terrorists who stole the plane.
"We took all the hypotheses and collected all the videos and analysed them from different angles and tried to give explore the different theories," he explained. "It was very popular."
Getting people involved

Another success is the bright red "Report a Fake" button on the site's homepage. By clicking on the button, visitors can give details of potential fakes. When they first added the button, the group were worried that it would be misused by so-called trolls – people who are paid to leave comments on the Internet. But, says Fedchenko, they have received "tons of feedback" via the button and it has the added advantage of giving users a way of participating in the project.
The website was originally targeted at Russian speakers in the Crimea, where independent Russian language media was shut down at the beginning of the invasion. However, it seems Russians are also hungry for independent information, with one third of Stopfake.org's visitors coming from Russia. They are also very active in reporting fakes, Fedchenko says.
The site has an English version too – it was important for the team to give Ukraine a voice outside of their country. After several journalists were detained in Eastern Ukraine, many Western media organizations, including Germany's public ARD and ZDF broadcasters, have recalled their correspondents.
Despite StopFake's popularity, most of the team work as journalists for other media organizations and can only work on the site in their spare time. They have received some 8,000 euro in donations, but are otherwise paying expenses out of their own pockets. The hope is that in the future, crowdfunding will enable them to payroll full-time staff.
Template for others
Financial issues aside, Fedchenko says the project is easily replicable in other countries with similar problems. The team have the skills expected of any online journalists – writing, editing, photo-cropping and resizing, video editing and creating infographics for the weekly video wrap-up.
"We do the same things as anyone else would do – find the truth, check the facts, talk to people, and these are universal ways to improve journalism in any country."
StopFake won the People's Choice for Russian section of Deutsche Welle's Best of the Blogs Awards – better known as the BOBS.
Related Posts
Verifying facts in the digital age
How ARD, BBC and CNN verify social media content
Checking the facts in Africa: AfricaCheck
Written by Kate Hairsine