Ambitious journalism projects ask public for start-up cash
Several digital news projects in Europe have received a lot of attention over the past year due to their innovative funding method. They didn't have a big publisher financing their start-up costs, but went directly to their potential audience and raised millions for their platforms. This kind of crowdfunding might be a model for others to follow, especially as other revenue streams slow to a trickle.
The drumbeat of depressing news about print publishing's decline has been with us for so long now that it's now part of the general background noise. But digital sites, even the big ones, are also hurting as online ad revenues have slumped. More and more are abandoning the "it's free on the internet" philosophy and setting up paywalls, with some success.
But what about the new kids on the block? Those start-ups might have the drive and ideas, but aren't the New York Times, which has enough clout to convince people to pay to access unlimited content.
Two European newcomers think they might have found a solution. Within a year, a Dutch online news platform called De Correspondent, and a similar German project, Krautreporter, managed to raise millions of dollars through crowdfunding campaigns. They wanted to launch sites following a new business model, and in a sense, to remake online journalism. In fact, Krautreporter declared on its blog: "Online journalism is broken. We can fix that."
That's a big goal, but one that enough people seemed to think is worth opening their wallets for. In one month, Krautreporter got more than 17,000 people to commit at least 60 euros (about $81) for a total of over $1.2 million.
Crowdfunding has been around quite a while, and this grassroots method of raising capital has been used by everyone from artists to fashion designers to gamers to computer manufacturers. One of the first local news crowdfunding sites, Spot.us, was founded in 2008. But as media budgets shrink, more journalists appear to be turning to the crowdfunding model.
In addition to the start-up projects highlighted in this post, crowdfunding supports one-off projects. Working journalists have turned to it when their organizations can't – or won't – pay for a costly assignment or lengthy investigative research. Freelancers use crowdfunding to raise money to follow stories they think need to be told, but who don't have the resources needed to do the reporting.
One project-based crowdfunding effort helped send a small German team of reporters to this year's World Cup in Brazil. After negotiations with a magazine fell through, three journalists put out a call, raising several thousand euros.
While a small amount, it helped send the team of three to South America where they took a different angle than the rest of the media pack, posting on brafus2014.com stories on the periphery of the games and recounting how the Brazilians themselves experienced the global contest taking place on their doorstep. Their approach garnered them a regular spot on Germany's SWR3 public radio station.
A place for longer stories
Krautreporter founder Sebastian Esser and a group of other German journalists were increasingly frustrated at the growing popularity of tabloid-style news stories online. Longer, investigative pieces were becoming increasingly rare and pay rates for freelancers were somewhere in the sub-basement.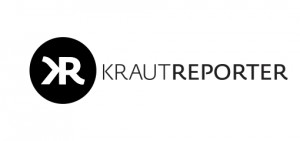 Krautreporter, which is set to launch in September, wants to be an alternative to that. The start-up money will support a staff of 25 part-time journalists for a year.
The pieces on the site – around five new ones a day – will be longer and more in-depth, Esser says. Gone will be the banner ads, sensational headlines, cute cats and other click bait elements.
While the articles will be free, supporters will be able to comment on articles, play a role in content creation and be invited to special events. The idea is to build a community of people around quality reporting.
A new take on the news
Krautreporter is not the first journalistic endeavor to the look to the crowd for support. In the US, there's the aforementioned Spot.us and well-known blogger Andrew Sullivan's crowdfunding endeavor early last year when he decided to go independent. But topping the Germans' inspiration list is certainly de Correspondent.
Helped by an appearance on Dutch TV by founder Rob Wijnberg, de Correspondent raised commitments from 15,000 people in just eight days in March 2013. In two weeks, 19,000 had signed on and $1.7 million committed, all for a product that didn't exist yet.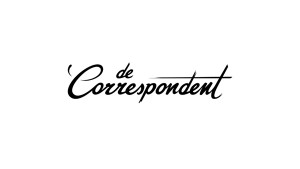 The project's founders were also fed up with the mainstream media. What they wanted was an ad-free site that focused on the kinds of stories that usually don't survive the daily editorial meeting. The emphasis is on background, analysis and investigative reporting. For Wijnberg, "new" was more important than "news," and he wanted to look at developments that might be less spectacular than most news events, but which have an impact on people's daily lives. This was not a goal shared by editors at the big legacy paper where he worked, so he left.
Some skeptics
While both sites have attracted a lot of attention, not all of it has been positive. Several spoofs of the Dutch site went online, including one that raised 90 euros to "deliver a completely unknown journalistic surprise." At one point, someone created an exact copy of de Correspondent and put it online with a nearly identical URL, saying the whole thing had been an April Fool's joke. But, in the end, it wasn't. The site went live on Sept. 30.
Germany's Krautreporter has also been the target of criticism, especially regarding the diversity of its editorial team. Of the 28 journalists featured on the site, six are women. Ethnic diversity also appears to be in short supply. In addition, while a launch date has been set for this fall, some commentators have wondered if the site will be ready.
Last month, German media reported Krautreporter was still struggling with technical issues and needed to figure out how big a role to give its funders in determining the site's form and content. In fact, founder Sebastian Esser told the Nieman Journalism Lab, "I'm not sure we will make it beyond a year." He describes the site as a club in progress.
Wanting something new, willing to pay for it
Whether the two sites can keep the lights on in the long term is an open question. But enthusiasm of a substantial number of people willing to cough up cash for these new kinds of endeavors suggests there's a widespread sense that many journalism outlets have taken a wrong turn in the digital age. The need to be first at all costs and to strip articles of context, background, and yes, essential content, in a race to match allegedly shrinking attention spans has left people yearning for something else.
That's not to say they are racing back to the newsstands to pick up print editions of the big legacy papers. In continental Europe, print's troubles are especially pronounced. Newspaper circulation has
declined 23 percent
there over the past five years and many of the continent's big names are facing big doubts about their futures.
But these two recent crowdfunding success stories suggest that people still want quality news – stories they might have to sit down with for a while instead of reading on their tablet as they down a morning cup of coffee before rushing out the door.
For entrepreneurial editors willing to look beyond the familiar conventions of news gathering/writing and to try something new, the early success of De Correspondent and Krautreporter is encouraging. For independent journalists with a powerful story idea but weaker bank account, appealing to the audience is a very feasible option. But you need to be smart about it, as this list of crowdfunding tips recommends.
It won't work for everyone, and not every crowdfunding appeal meets its goal. Last year, the photojournalism crowdfunding site Emphas.is closed after two years of life, saddled with hundreds of thousands of dollars in debt.
In addition, sustainability is always a challenge. Perhaps an innovative thinker can inspire the public with a novel idea or approach, but learning how to create social and economic value once the site is up and running is probably even harder.
But if the idea is good and the execution done well, the wisdom and wallets of the crowd might well start changing the digital news landscape for the better.
Author: Kyle James
Date
Wednesday 2014-07-09