Local news site network growing fast in Asia

English speakers in big Asian cities can buy English-language newspapers but many still want more detailed information about what's happening in their own neighborhoods. That was an unfilled niche that American journalist Byron Perry saw in his adopted city, Bangkok. In 2011, he launched Coconuts out of his apartment to provide local news in English. Now he's got sites in five Asian cities and big plans for the future.
Perry, all of 30 years old, now manages five Coconuts sites in Asia: Bangkok, Manila, Singapore, Hong Kong and Kuala Lumpur. The California native, who has worked everywhere from Hollywood to provincial Cambodia, seems to have found a winning formula. His city sites feature stories on everything from local traffic and crime to restaurant reviews and local gangsters. onMedia's Kyle James spoke with Perry about why he started Coconuts, how he pays for it and what he thinks of hyperlocal coverage.
Why did you start Coconuts Bangkok?
I didn't think there was any good online resource to know what was happening in town, like outlets I had liked to read in San Francisco or Los Angeles. I love local news and hearing about things that are happening in my vicinity, whether its crime or changing public transportation fares or something more fluffy like a party or a new restaurant opening. The English-language press in Bangkok has national and international coverage. They do have a lot of stories about Bangkok but a lot of other things as well. So one thing that we do is rewrite stories from the Post and the Nation and other media outlets in the cities. Part of what we do is to find the local stories there and the interesting angles, source them and present them in one place.
Which site gets the most visitors now?
Manila does, and the fact that the Philippines is English speaking is the main reason for that. The potential for readership is just much bigger. The second biggest site is Bangkok and the third is Singapore. Overall, we've seen great growth. We surpassed one million unique visitors across all the sites in November last year and we've surpassed one million pretty much every month since. We're in between one and two million now and looking to grow to several million unique visitors per month.
Your tone is pretty informal. Is that because your readers are younger?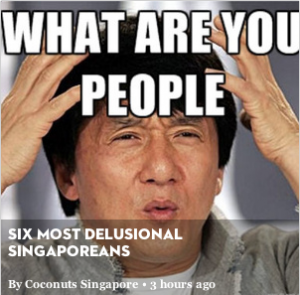 I'm very much inspired by sites like Gawker in the US, which is totally snarky (irreverent). We have a saying, "we want to be snarky but compasionate." So I want to be snarky when the situation calls for it but I also don't want to be disrespectful about something serious. As far as our readers ago, 22 percent are between 18 and 24 and 38 percent are between 25 and 34. So they skew younger.
How do you staff the sites and generate content?
We have one or a couple of editors for every site and they each have freelancers who write for them. We also have a user-generated content function where anyone can create a post. That was actually very much part of the original idea and I wanted Coconuts to be very user generated. But it hasn't taken off in the way I might have hoped. A lot of media that I have looked up to in the US is moving away from user-generated content because I think it's just hard to find quality stuff. I think that's because there are two kinds of people who write in with content: one, people who are promoting their gym, restaurant or whatever; and two, the crazy people! Still, we approve some content that's promotional. It just goes to a separate area called the Community Section.
How are your financing the sites now?
After I started the Bangkok site, I was able to gain some traction and go to Silicon Valley to get funding with the aim of launching in the other cities where we now are. These days, we're monetizing the sites through advertising and sponsored content. We do have banner ads, but we want to focus more on sponsored content, which is what a lot of websites and media outlets in the US are doing. That's where we work with advertisers to come up with content that they sponsor. It can run the gamut from being very advertorial to a commissioned piece of journalism that doesn't have much to do with the advertiser. We had one that was sponsored by Vespa about the fact that in Bangkok's Chinatown, tons of people still use old Vespas. With sponsored content, one thing that's really important to me coming from a journalistic background is that it's made very clear that it's sponsored. I do worry about editorial independence, and it's something that a lot of media outlets are trying to figure out right now, how to maintain editorial independence while producing sponsored content. For me, it's different than editorial content, and our editorial content isn't for sale and isn't sponsored.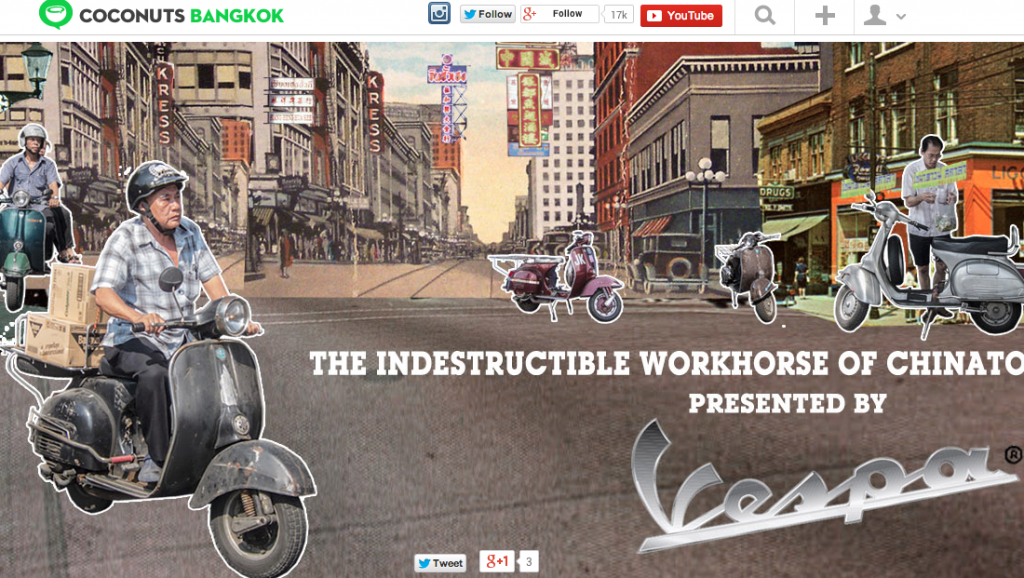 You operate in different Asian countries where there are different levels of press freedom. How do you deal with that?
We understand that there are varying levels of media control in some of the countries where we operate and we know the things that we can and cannot do. We have to abide by the rules because if we didn't, we wouldn't be able to operate in those places.
Coconuts TV is pretty impressive. The videos are very well produced, interesting and cover a wide range of topics. Are your reporters all versed in multimedia or do you have outside people who do the video work?
Coconuts TV is a huge focus of mine this year and is a new initiative I'm trying to build up. We have a multimedia director, a videographer and filmmaker, who went to Columbia Journalism School in New York. He produces a lot of videos and we use freelancers as well. I think that the future of TV is YouTube. Younger viewers are not tuning into traditional TV, they're watching short videos on YouTube. So we're focusing on that.
What are the biggest challenges the sites have faced up to now?
We haven't had any really big problems and I'm thankful for that. For me, the managerial aspect is the toughest part. As we're growing, there are so many different things to manage and do. There's the sales of the sponsored content; there's marketing outreach on Facebook; there are the technical aspects of making an app. Managing everything together is the hardest part.
What's in the pipeline for Coconuts?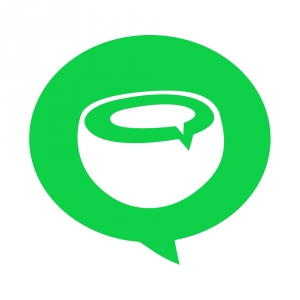 We want to continue launching in new cities – we're considering Jakarta, Bali, Yangon and the big cities in India, like Mumbai, Delhi and Bangalore. We would love to launch in all of those places. That's not going to happen right away but that's the goal. We're also going to focus on building up Coconuts TV.
How do you see the future of hyperlocal sites in general?
I think there is a need and desire for reporting on what's happening in one's area. Some hyperlocal websites have had trouble, like Patch, the AOL project, which totally failed. It was similar to Coconuts in that they wanted to launch in a lot of different places and they did. But I think their problem was the sites weren't very cool and interesting. People just weren't reading them. But I do think there is a demand and even if AOL didn't do a great job, we hope to do a better one. I don't think hyperlocal sites are the next revolution of media or journalism but I do think people are always going to want to know what's happening in their city. It's like the metro section of a newspaper and that's what we're trying to do in an online and social media-friendly way.
This interview has been edited for clarity and length.