Tools and Apps for Journalists: Steller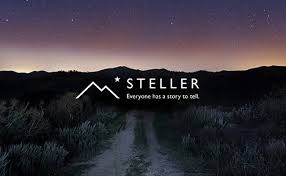 What is Steller?
Steller is a free storytelling app developed by Mombo Labs. It allows you to create multimedia stories directly on your iPhone or iPod touch by adding photos, videos and text. After several months in beta, Steller was made available in March on Apple's App Store.
The number of people using the web on their mobile devices is ever growing. Moreover, newsrooms are realizing that not only do they have to be digital first, but they also have to produce content that can be consumed on a small screen. It's interesting to see how apps such as Steller are focused on producing multimedia stories optimized to be consumed on mobile devices only.
Simple start
When you first open the app and click on "collections" you'll find a variety of stories created with Steller. Plenty of stories have also been published on the social network Pinterest. Most of them look quite appealing as all Steller stories transmit the sense of literally browsing through pages of a booklet full of multimedia content.
Another thing that comes to mind while opening Stellar on your iPhone or iPod touch is its similarity to the iPad storytelling app Storehouse. Both Steller and Storehouse offer a simple and user-friendly design. The Steller user interface is self-explanatory and the app provides useful visual hints while creating your multimedia story. Once downloaded, you have to sign up for a free Steller account or you can log in with your Facebook account. Then you are ready to start your first project.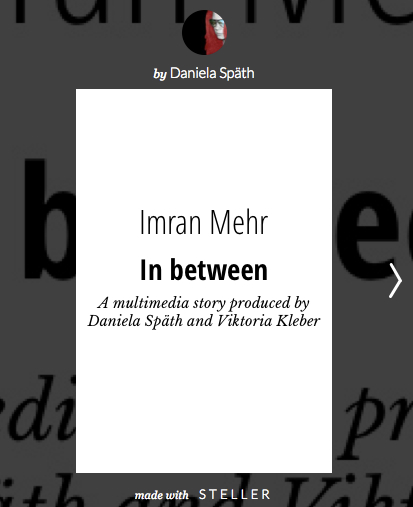 We decided to create a test Steller story with three different kinds of media – text, photos and video. In our story about a Pakistani man called Imran Mehr, we wanted to combine four short videos, text and some pictures of Imran. Once we clicked on "post a new story", Stellar offered us three options: Add text, add a video or photo.
One page – one medium
Each page of this "digital multimedia booklet" represents basically one medium. We decided to start with a title page, so we needed to pick the option "text". Once we made our decision, we could choose between eight different text templates. They all differ from their designs. They allow you, for example, to change font and layout. The same applied while adding our videos: Steller provides twelve different options (video with a title in the center, video with a text box on the bottom, etc.). Also the text option offers a variety of styles (big letters, small letters, font color, etc.).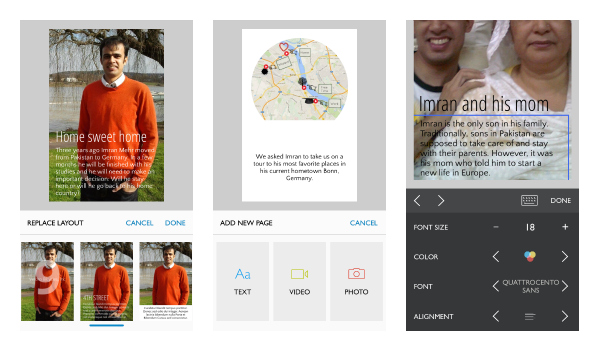 Logical workflow, easy publishing
The work flow within Steller is always the same. After choosing whether to first post text, a video or a photo, you can select between several layout templates and then adjust your photo or video by selecting and dragging the elements with your fingers. Once you are done with one page, you can simply add another page by tapping on the icon at the bottom of the right corner. Page by page you gradually produce your story. If you make a mistake, you can easily go back and edit the content. Of course, like any multimedia story, it's good to sketch out a plan first.
When you're ready to publish, Steller lets you distribute your story on its own network and as well on other social networks like Twitter, Facebook and Pinterest.
Some drawbacks with typing text and video files

Steller is user friendly and easy to start. It took only about 20 minutes to get used to its interface and to get to know its options. The project itself was finished within a few hours (production time for the videos not included of course).
Nevertheless, there are some drawbacks in the current version. Steller does not allow the user to add audio files. We had a range of audio files we wanted to use but had to rely on video, text and pictures only. And you can not combine multiple media on one page. Steller only allows combining text with videos or text with pictures. It's not possible to add a video and a picture or two videos on one page.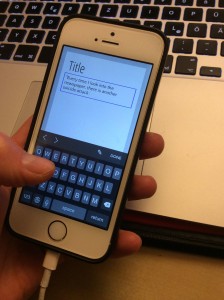 Writing a long story on an iPhone is also a challenge because it takes time typing on the small visual keyboard. Text import options are not yet available. Dictating text via the iPhone's microphone and voice recognition system might work better but you have to be connected to the internet.
Then there's video. The frame size is vertical. For viewers who are used to turning an iPhone horizontally to watch a video, the vertical layout might feel strange.
Last but not least the size of a multimedia story is limited to 10MB only. That means if you're working with videos it's very easy to exceed the 10 MB. In our project we had to delete two videos and shorten the duration of the other two we wanted to use (which by the way were all around one minute long). Steller did not mention its size limit on its homepage, so it was quite frustrating to get the notification "Story too large. This story exceeds the maximum size" after hitting the publishing icon.
What else should journalists know about Steller?
Steller is definitely an easy to use app that supports a quick workflow with remarkable results and offers a clear focus on mobile devices. Steller might work best for picture-driven stories attracting the more "visual reader" on a quick commute who likes to be entertained by a short, but visually appealing story.
Cost: free on Apple's App Store. It's optimized for iPhone and iPod touch running iOS 7.0 or later. Not available for Android.
Publishing: Steller only publishes your project within its own network and you can share via other social networks such as Facebook, Twitter and Pinterest. You can not embed in a blog.
Support: Users can log on to their help & support page and it's also possible to write an email directly to support@mombo.com.
Languages: The Steller interface is currently only in English.
Author: Daniela Späth