African journalists reach for the sky with drones

Africa has its first drone journalism team. The possibility of capturing aerial images to illustrate the scale or context of a story, or show a completely different perspective, was the inspiration for launching AfricanSkyCAM.
Unmanned aerial vehicles (UAV), or drones, are increasingly entering service with media organizations around the world. This is because they're small and cheap to operate. And they can help to produce shots that manned aircraft, even helicopters, often can not deliver.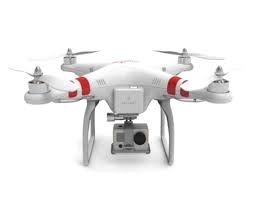 A quadcopter, such as the DJI Phantom series fitted with a lightweight GoPro HD camcorder, can be flying in the air for around 1,000 euro.
Kenyan journalist Dickens Onditi Olewe is the founder of AfricanSkyCAM. As the head of the online team at The Star newspaper in Nairobi, he was frustrated seeing journalists send in the same kinds of images of seasonal flooding in Kenya, year in, year out. This spurred him to explore the possibility of using a drone to get better shots, he explains to onMedia.
"It's like a template," Olewe said in Skype interview from Nairobi. "You have the rains and you can almost guess what the reporters are going to do. They're going to the affected areas, get in a boat from a local fishermen, row about and come back with pictures at eye-level."
Any journalist or photographer who has covered such events can relate to that experience – you capture what you can, however you can.
And even if the journalist manages to get up in a helicopter, the images can still be problematic, adds Olewe. This is because the journalists and photographers usually can only hitch a ride in government helicopters, which then fly over areas where government assistance is clearly visible. This might not show the reality of the situation; the Kenyan government is often criticized for its slow response to floods.
Olewe wants to change this with AfricanSkyCAM. He wants to show newsrooms that there is a cost effective way of capturing aerial footage to give audiences a new and independent perspective on a story.
Low cost "revolution" for African media
Olewe is excited about the possibilities drones offer journalists, especially in Africa where few newsrooms have the resources to hire helicopters.
"If you watch documentaries about Africa or the diversity of wildlife and the landscape, most of these stories are told by foreigners," says Olewe.
With the added capacity of an "eye in the sky", Olewe argues African journalists can tell stories that might have been impossible without access to aerial footage. The video below filmed in the Ol Pejeta Conservacy gives an idea of the quality of aerial images the AfricanSkyCAM team aspires to produce. AfricanSkyCAM has also entered a partnership with CCTV Africa to give its audiences "a different perspective on Kenya's wild spaces and wild animals."
Olewe's team is currently working on a story about Kenyan farmers whose crops are being destroyed by hippos and for years have had their calls for compensation rejected by the government.
Olewe hopes his team can use footage from their drone to film the hippos safely, clearly show the extent of the damage and prove that these farmers are entitled to compensation.
"This kind of story can only be published courtesy of using this type of equipment because we will be at a safe distance to cover this invasion [of hippos], and it will show the amazing capability of the drone for a story like this," he says.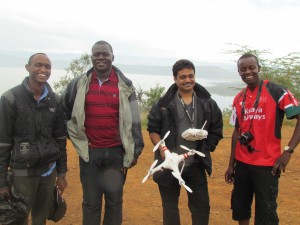 Olewe also sees the potential advantages of using drones to cover breaking news stories such as fires or riots. But along with providing interesting aerial shots to tell a much more compelling story, he says drones can help keep journalists and photographers safer when covering dangerous events.
Flying responsibly and legally
The legal use of drones by journalists is under debate in many countries. Media organizations in the United States are for example planning to challenge a ban preventing journalists using drones.
To help media organizations in Africa prepare to use UAVs, Olewe is in the process of establishing "African Drone" – a community of organizations using civilian drones that will closely examine not only the technical flying requirements for UAVs, but also relevant civil aviation laws and insurance.
At the moment, Olewe says there are no laws in Kenya that specifically cover the civilian use of UAVs.
Olewe says his team takes a practical, safe and common sense approach to flying and observes their newsroom's code of ethics. For now, his team have used their drone in mainly rural areas to cover environmental, animal conservation, agricultural and sports stories where authorities are less likely to take issue with a drone being used by journalists.
Olewe says Nigerian journalists recently asked him whether they should use a drone to cover the abduction of schoolgirls by the militant Islamist group Boko Haram.
However, Olewe warns that anything that might provoke the militants, such as searching for the girls with a drone, would be far too risky – flushing out militants with a UAV is not the job of journalists. Better he says to wait until the girls are safe and use the drone in a much more constructive way to produce aerial images that give more context to the story and illustrate the surroundings of where the girls were abducted. For example, a drone could produce images that helps to explain: Where exactly is the girls' school? What surrounds the school? Where is the nearest village?  And, where was the army operating when the girls were abducted?
Given the lack of legal framework to properly regulate the civilian or commercial use of UAVs, Olewe hopes that taking a conservative and responsible approach now will serve media organizations well when the "African Drone" community begins consulting authorities about regulations for flying.
If you're interested in some of the legal aspects of using drones for journalism, watch the video below from the recent Ground Breaking Journalism conference in Berlin. The panel session begins with a presentation from Ben Kreimer of the University of Nebraska's Drone Journalism Lab who talks about his recent work with the AfricanSkyCAM team.
The AfricanSkyCAM project is currrently funded by the Knight Foundation's African News Challenge to develop digital projects that improve the quality of news across the continent.
Author: Guy Degen
>Tourists take in the sites of Kyiv's Maidan revolution
Date
Wednesday 2014-05-14