Choosing a tripod mount for your smartphone reporting kit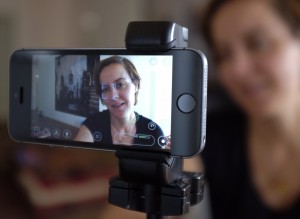 Unlike most cameras, smartphones do not have a threaded hole to connect a tripod. So, a tripod mount is an essential part of a smartphone reporting kit.
It will allow you to not only attach your smartphone to a tripod but to literally anything that has a standard 1/4 inch thread camera mount. For example, a monopod, pistol-style hand grip or a flexible camera support system such as a Gorillapod or Dinkum grip.
The benefits are clear. Using some sort of supporting device to stabilize the smartphone will produce better shots, especially when recording video interviews.
I've tried tripod mounts of different shapes and sizes to fit the various mobile phones I've used. Some were rubbish, while others only worked with specific mobile phone models and become redundant when you changed phone.
Fortunately there is a trend now for manufacturers to offer tripod mounts that will fit different types of smartphones.
The criteria I usually follow is straightforward. Is it easy to adjust; is it robust and does it work with my other equipment?
In this post I'll compare two tripod mounts: the new Glif and the Shoulderpod S1.
Both are designed to fit literally any smartphone and both use a clamp design that can also accommodate a smartphone housed in a protective case or a battery pack.
The (new) Glif
The new Glif is a move away from the original rubber sleeve versions which were a popular accessory for iPhone4 and iPhone 4S users.
The sleeve design was very compact and was fine for static shots or shots involving little movement, but I was always worried that the phone might fall off if it was bumped.
This problem was addressed in a later version that featured a locking clamp. So it's interesting to see the new Glif embrace an adjustable system and offers a mount that works with literally all smartphones not just iPhones.
The Glif is sturdy and made of metal and comes with a hexagonal key to adjust the clamp size to fit the phone. So you'll have to give some thought as to whether you'll be using your smartphone with a case or not. It would a pain if you needed to adjust the Glif and had forgotten to bring the hex key. As the manufacturers say in their video, once you set the size of the Glif "you'll never need to adjust it again".
There is also a screw in eyelet that comes with the Glif so you can attach it to a keychain or a strap.
The Glif clamp makes a tight and secure grip around the phone. On their website, Studio Neat says the Glif fits virtually any smartphone: between 58.4–86.4mm wide and 3.1–12.7mm thick.
I like how the Glif has a standard 1/4 inch threaded hole at the top and at the bottom of the clamp. This gives you the possibility to attach something else apart from a support device. For example, a microphone or even a short rail for a cold shoe.
The Glif also serves as a support stand for your smartphone – useful for resting your phone on a table or watching a film on a plane.
Shoulderpod S1
The Shoulderpod S1 is produced by a Barcelona based design company that bills their product as "The First Professional Smartphone Rig".
Like the Glif, the Shoulderpod S1 also works as an adjustable clamp-style tripod mount and a stand, but it also features a hand grip extension. Together this is the "shoulder" you could say, as it forms a hand grip similar to gripping the side of a larger DSLR camera.
Inside the hand grip is where the clamp mechanism is housed. The clamp is adjusted by turning the pressure screw at the top – no need for carrying around a hex-key like the Glif. This is great for quickly adjusting the Shoulderpod to whatever phone or case you might using. That's also handy when demonstrating the benefits of a tripod mount during training workshops.
The Shoulderpod does though look significantly bulkier that the Glif, and it'll occupy a little more space in your kit bag. But when you grip the Shoulderpod, the device disappears into your hand, and feels very reassuring to hold.
The included strap that attaches to the hand grip is a fantastic addition. You will feel more confident using your smartphone to take photographs or shoot video in places where you might have second thoughts – say over water.
One caveat though. If you're doing hand held filming with an iPhone and using an external microphone, depending on how you like to grip the Shoulderpod, you might find that the microphone plug sticks into your palm. Not all microphones or mic adapter cables offer a right angle plug to minimize this.
I would also like to see the Shoulderpod feature both a threaded hole at the top and at the bottom of the clamp, like the Glif.

Mount up
As a tripod mount, both the Glif and the Shoulderpod do a very simple thing very well. Your smartphone is going to be securely attached to whatever supporting device you choose.
Both are well designed, manufactured and appear quite durable for day to day use by journalists.
The Shoulderpod has the advantage over the Glif of being easier to adjust on the run, but you could say that comes at the expense of being slightly more bulkier.
Both the Glif and the Shoulderpod S1 are priced about same (around 30 Euros in Germany).
If you need to do a lot of hand held filming then the Shoulderpod S1 may be more attractive. On the other hand, if you only occasionally use a tripod or similar support and are looking for an ultra slim tripod mount then the Glif might find its way into your kit bag.