Journalists@Work: Sophia Chinyezi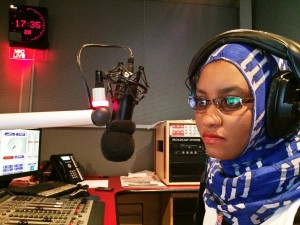 Sophia Chinyezi works as a radio journalist and news reader at Radio Maisha in Nairobi. The station broadcasts across Kenya in Kiswahili and is owned by the Standard Media Group. Sophia has been working at Radio Maisha for three years and holds a diploma in broadcast journalism.
The 26-year-old reporter says writing and journalism is in the family. She was inspired to pursue a career in journalism and broadcasting by her grandfather who was a well-known poet and newspaper editor, and by her aunt, Saumu Mwasimba, who currently works in Deutsche Welle's Kiswahili service. A recent highlight for Sophia was traveling to South Korea to produce a feature comparing South Korean and Kenyan economic development. Sophia spoke to onMedia about her work.
What do you like most about your job?
Waking up as early as 3 am in the morning and completing my shift by 1 pm. It allows me to venture into other things outside my profession, since I have a lot of the time in the day to myself. Journalism has also helped me to learn more about what is happening in my country and other countries, which makes me more alert in situations around me.
What do you dislike most about your job?
The lack of holidays!
What is the most difficult story you have covered?
The elections in 2007. The difficulty was not in covering the process of voting and the tallying of the results but the violence. The voting station I was sent to cover was at a primary school in Kilifi County, north of Mombasa. Youths attacked (the voting station) and killed police officers on duty and also some election officials. Seeing their bodies lying helplessly on the ground was a torture to me. Unfortunately, the people in that area were also denied their constitutional right of voting following this incident. This is one story that will forever be at the back of my mind.
What challenges as a journalist do you face in Kenya?
The recent media bill passed by the National Assembly and signed into law by the President gags journalists and affects the way we cover particular events and stories. It is very difficult to express our views freely as journalists. We are now restricted by the law.
How do you feel you are developing as a journalist and advancing along your career path?
I am trying to use online resources to better understand new ways of telling stories. I believe they will shape the future of media. But I must say I have changed a lot since I joined the media industry. There are so many areas I have improved on compared to the first day such as my news presentation skills and script writing.
What kind of media do you consume?
Every form of media available online. I follow both local and international news. I basically like to follow stories on Al Jazeera, CNN and Daily Mail on their online platform. I also read Kenyan local newspapers including the Standard.
How important are social media networks for your work?
Social media networks such as Twitter and Facebook are very helpful as they are quick in breaking news and they help us find information and get more details from our sources.
What are your goals as a journalist?
To be an agent of developmental change in Kenya and Africa. I'm aiming to become a feature writer on human interest stories. In Kenya I will never fail to have something to write about.
Do you have a personal motto for your journalistic work?
Strive for excellence!
Date
Wednesday 2014-09-17