Search Results for Tag: kenya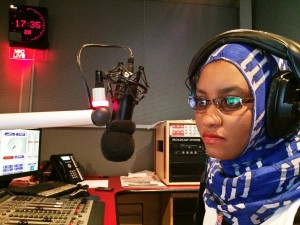 Sophia Chinyezi works as a radio journalist and news reader at Radio Maisha in Nairobi. The station broadcasts across Kenya in Kiswahili and is owned by the Standard Media Group. Sophia has been working at Radio Maisha for three years and holds a diploma in broadcast journalism.
The 26-year-old reporter says writing and journalism is in the family. She was inspired to pursue a career in journalism and broadcasting by her grandfather who was a well-known poet and newspaper editor, and by her aunt, Saumu Mwasimba, who currently works in Deutsche Welle's Kiswahili service. A recent highlight for Sophia was traveling to South Korea to produce a feature comparing South Korean and Kenyan economic development. Sophia spoke to onMedia about her work.

read more
Date
Wednesday 2014-09-17