Radio Ambulante – a new kind of radio for the Spanish-speaking world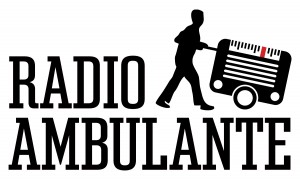 Bringing powerful audio stories to Spanish speakers across the Americas, that's the goal of Radio Ambulante. The California-based show is a home for long-form, sound-rich radio features driven by strong characters and compelling voices – a format that is not very common in the Spanish-speaking world.
The show was inspired by a reporting trip novelist Daniel Alarcón made to his native Peru on assignment for the BBC. While investigating migration there, Alarcón travelled across the country recording personal stories from a wide range of people. But when he later heard the final mix, he was disappointed that the producers had largely highlighted the English speakers he talked to, leaving out much of the compelling material in Spanish. He wondered what the result would be if there was a place where Spanish-language voices could be heard.
In 2012, with the help of a successful Kickstarter campaign, Radio Ambulante was born. Programs have featured a transgender Nicaraguan woman living with her wife in San Francisco, a Peruvian stowaway describing his frightening journey to New York, and an Argentine who was jailed during that country's dictatorship and given the choice to either work or to die. "Ambulante" can mean traveling or itinerant but also refers to "ambulantes": street vendors who sell all kinds of wares in many Latin American cities.
While Radio Ambulante has a growing list of terrestrial stations that carry it, the show is largely distributed digitally. In early October, Radio Ambulante was awarded the Gabriel García Márquez Journalism Award in the innovation category. onMedia put a few questions to Radio Ambulante's co-founder and executive director, Carolina Guerrero, about how the show's format has been received in Latin America and where the show wants to go to from here.  
onMedia: It's been said that Radio Ambulante's goal was to produce long-form audio stories, a format that largely didn't exist on Spanish-language radio. Is it too simplistic to say you wanted stories along the lines of the popular and critically acclaimed US radio program "This American Life", but in Spanish?
Carolina Guerrero: We are huge fans of This American Life, and that program was certainly one of the inspirations for Radio Ambulante, but we've created our own style, and our content is different too. Some people have called us, "This Latin American Life", which is very flattering, but we hope our listeners now see the complexity of having created a transnational podcast in a different language, and how Radio Ambulante is still a unique podcast.
How has this new form been received in Spanish-speaking countries and communities across the Americas?
We are thrilled with the positive response we have received from our listeners. Our audience keeps growing, as more Spanish-speakers learn about podcasting and audio storytelling. Obviously, it has taken time for us to build an audience, since radio in Latin America has been mostly used to listen to music or news, and Radio Ambulante's stories are long-narrative pieces that require time and concentration. We have around 100,000 monthly listeners, and 84 percent of those listeners are between 18 and 45 years old – 45 percent of them are in Latin America. Young Spanish-speakers are digitally savvy and interested in podcasting and in these new forms of audio storytelling.
Your audience target area is enormous. How can you be sure that all your listeners can relate to the stories you produce? Are you worried the cultural differences are too large?
Our target area is enormous since the number of Spanish-speaking people in the world is almost 400 million – but of course we don't need to reach all of them to be successful! We hope to reach as many as we can with quality, well-reported, impeccably produced stories. That's universal. Everyone loves a good story. And so, yes, there are cultural differences among Spanish speakers, but we believe that our stories are capable of moving audiences anywhere Spanish is spoken.
How have you found your producers over such a large area? How big is your network of contributors now?
At the very beginning we reached out to journalist friends from Latin America to find stories, and a few months later we opened a Call for Pitches that brought us many more stories from independent radio producers in the US as well. It's the kind of thing that becomes easier as time goes on: now we have a body of work that we can point potential contributors to and people come to us with great ideas all the time. During the last two years, we've seen our network of producers and contributors grow and expand all over South, Central and North America, and some other countries in Europe or Asia.
The Gabriel García Márquez prize committee praised the collaborative nature of the project, saying its strong journalistic guidelines had given the stories a distinctive voice. Is there a common sound that you're after?
The common sound we are after is that of great storytelling. Our editors work closely with our producers for long periods of time and we have a very distinctive format where, most of the time, we have a narrator alternate with the characters telling the story. That gives the stories a dynamism that we are always looking for since listening to the same person speak for a long period of time could be boring. We try to find a balance in the way we tell the story. Ambient sound, music and sound effects are also key elements.
The committee also pointed to the economic model of Radio Ambulante. I know you got Kickstarter money at the beginning. How are you financed now? Do listener contributions make up a significant percentage of that?
We still receive support from our listeners, and expect to launch another Kickstarter campaign early next year. But most of our funding comes from different foundations in the United States. We're also starting to get underwriting and hope to find a few sponsors now that our audience is much bigger.
You have several methods of distribution – broadcast on radio stations, your internet site, SoundCloud, etc. Which is the most popular?
SoundCloud is the platform where we upload our content, and from there it is distributed to other platforms. So every time someone listens to our story on our website, via iTunes or via Stitcher, they actually listen to us in SoundCloud. We receive specific stats and metrics from them. But we also have a partnership with BBC Mundo, and they have their own platform and analytics, but bring half of the listeners to most of our episodes as well. We are also growing in terrestrial radio stations around Latin America. In essence, however, we're a digital project. From reporting to production to distribution, we rely on the most current digital tools to do our work. Our very nature is transnational. So without them, we could not exist.
You've experimented with different formats, including live shows, multimedia and English-language specials. Are there other ways you are looking at to expand your audience and interact with your listeners?
We are always looking for new ways to grow our audience and engage our listeners. Earlier this year we launched an interview series in English with PRI (Public Radio International) called Radio Ambulante: Unscripted, where Executive Producer Daniel Alarcón interviews Latino and Latin American artists, thinkers and innovators. With this series we hope to reach those listeners who are interested in topics related to Latino and Latin American art and innovation, but who might not have the Spanish-language skills to access that information through Spanish-language media.
We also hope to expand our presence on the radio dial by distributing our content to more terrestrial radio stations in the US and Latin America. KALW, the local public radio station from the San Francisco Bay Area, just starting broadcasting our content in Spanish – which is huge! We'd love to see more radio stations around the country follow KALW's bold move. Live shows are a big part of our mission, too. We have the forth one coming up in San Francisco, and we know it will be a success. It's all part of our mission to bring diverse, complicated, moving stories from Latin America to the audiences that crave them. With that goal in mind, we're willing to try every avenue available.
Interview conducted by Kyle James