12 tips to using digital technology for media and advocacy
The South2South Media Dialogue recently brought together 14 amazing journalists and activists from Latin America, Asia, the Middle East and Africa who are all working in the trenches – creating new tools and new ways of using technology to increase people's freedom of information and expression. Their experiences range from mapping Rhino poaching deaths in southern Africa and using the crowd to open up data in Argentina to providing audio news on mobiles in India, conducting investigative journalism in Peru and starting up Palestine's first hyperlocal news site.
At the four-day event in Cape Town, they talked about their own initiatives and shared many of the pitfalls and possibilities of implementing and running projects which use digital technology. So here's your chance to learn from them.
12 lessons learned (in no particular order of importance)
A website does not attract people; rather social media brings people to your site
Use social media well to build a community
Thoroughly know your users through analytics and other measurements
Connect online communities and offline communities to make a greater impact
Don't forget Aunty! Most projects tend to attract men and if there are any women involved, they're young. Think about how to make your project more integrative
Don't forget to integrate traditional media, especially radio, in your project
Collaboration is key – whether it's with other media organizations, NGOs, or with other journalists in other countries
Use data to show what you can't tell with words
The best platforms are the ones that look the simplest and are easiest to use
Hire good programmers and developers
Make an effort to regain trust in the media that many listeners/readers/users have lost
Done is better than perfect (yes, we know it was a Facebook motto but it's also relevant here)
The four-day DW Akademie South2South Media Dialogue took place in Cape Town from November 26-29, 2014 and brought together 14 people from 14 different countries in the Global South. All of the participants are involved in innovative projects which use digital technology in some way to foster freedom of expression and information.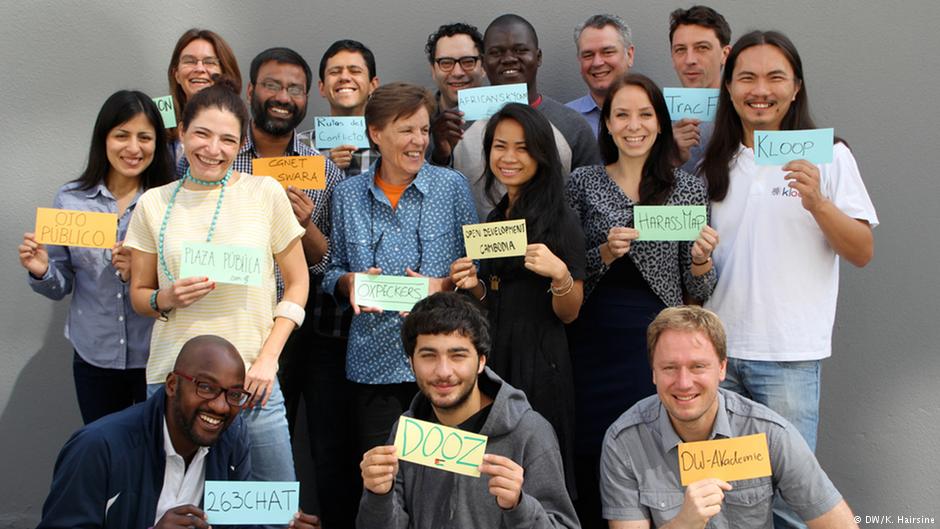 The participants included Ahmad Al-Bazz from DOOZ, Palestine; Penhleak Chan from Open Development Cambodia; Shubhransu Choudhary from CGNet Swara, India, Wouter Dijkstra from TRAC FM, Uganda; Noora Flinkman from HarassMap, Egypt; Alejandra Gutiérrez Valdizán from Plaza Pública, Guatemala; Bektour Iskender from Kloop, Kyrgyzstan; Toufique Khalidi from bdnews24.com, Bangladesh; Fiona Macleod from Oxpeckers Centre for Investigative Environmental Journalism, South Africa; Nigel Mugamu from 263Chat, Zimbabwe; Dickens Olewe from African SkyCAM, Kenya; Oscar Parra Castellanos from Rutas del Conflicto, Colombia; Angelica Peralta Ramos from La Nación Data, Argentina; Fabiola Torres Lopéz from Ojo Público, Peru.
Written by Kate Hairsine, edited by Guy Degen