A new media model worth watching – The Conversation

The Conversation is a popular Australian online news site that uses academics to cover breaking news and analyze current debates. The idea behind the model is to team up university researchers, who know a lot about many things but can't necessarily write for a mainstream audience, with editors, who can. The combination of "academic rigour with journalistic flair" (the site's slogan) has proved a roaring success and The Conversation now attracts nearly 20 million reads a month.
Largely funded by partner universities, the articles are free to read, there are no limits to the number of articles people can read and there is no advertising. In an interesting twist, articles are also free to republish under a Creative Commons license. And in an era where news organizations are continually slashing budgets and laying off staff, the not-for-profit has managed to export its model beyond Australia's shores to the United Kingdom and the United States.
OnMedia spoke with The Conversation's founder, Andrew Jaspan.
OnMedia: Why did you think there was a need for The Conversation?
Andrew Jaspan: I'd been working as an editor at The Age newspaper in Australia and The Observer in the UK, and every year I had to lead a redundancy round, which I didn't like because the good people tend to walk out and into new jobs. There's a move away from expensive specialist or expert journalists towards general reporters, who tend to be younger and cheaper. So when I left The Age in 2009, there was one nagging problem: if one continued hollowing out the newsroom – leading to poorer service – where were citizens going to get credible information to help them understand what's going on in the world, particularly around complex issues?
I wanted to answer that question for myself. The vice-chancellor at Melbourne University, Glyn Davis, said "Why don't you talk to ten of my smartest people?" So I did. While talking to them, I had a Eureka moment: how can I connect these truly smart people who really know their stuff – the very specialists in a sense who'd been lost in the newsroom – and help them translate their knowledge into readable copy freely available to a wider public?
So the combination of expertise within the university research sector with journalists gave us this different and revolutionary model. Our content is now getting nearly 20 million reads a month – and we're only three years old – so we expect to grow at a fast rate.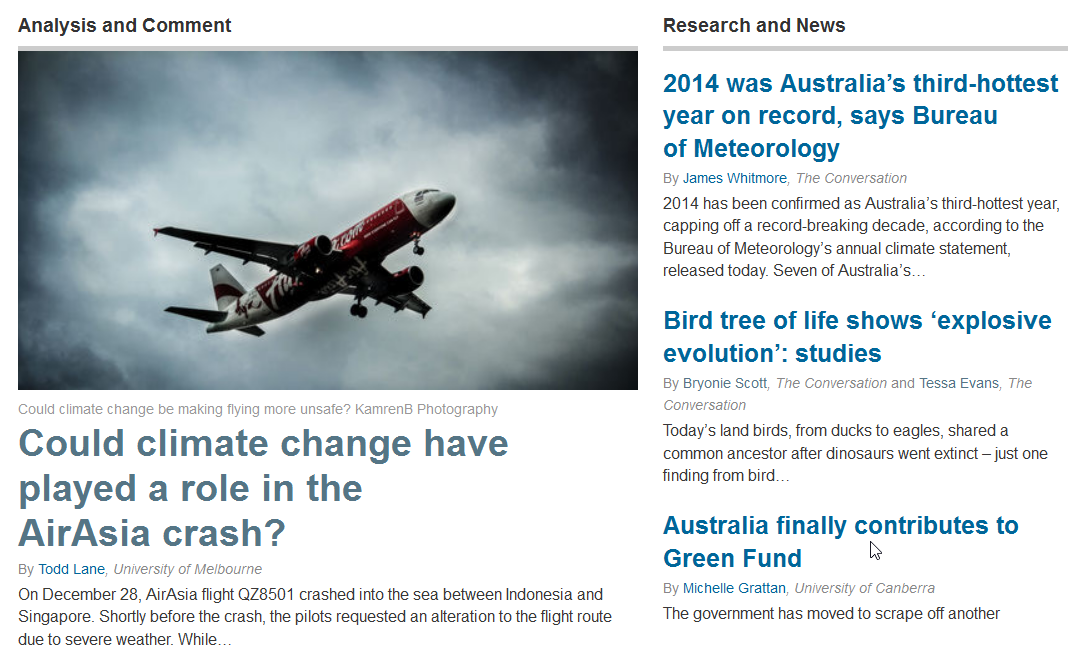 How did you dream up the funding model?
Well, the unique funding model followed from the idea. We didn't want to have a paywall around the information. We wanted to make the content freely available to as many people as possible, including the media. And we don't take advertising, so we had to come up with a new business model.
We asked each university to make a contribution, as members, and we now have 33 universities who fund us. Ninety percent of our running costs are our editors – we have a team of 32 in Australia. Much the same model operates in the United Kingdom where we have a team of 18 in London funded by nearly 40 universities. In the US (which launched in October 2014), we have a start-up team of 10 based in Boston funded initially by foundations. The universities then get this free service back to them – the commissioning, editing and curating that we do on their behalf. The site has real integrity because there aren't any advertisements for McDonald's next to a story about a crisis.
The media can use our content for free under the specific Creative Commons license as long as they don't re-edit it, which would run the risk they'll introduce the error we've worked hard to avoid. Now we have 13,000 websites around the globe using our content, which is brilliant because we wanted to put high-quality content back into the public arena.
Do you think journalistic commentary takes on a different meaning because of The Conversation's model?
Our 16,000 writers have to be registered, vetted and authenticated. This has brought a level of expertise and trust that what our audience reads in our pages is not being spun by ideological, commercial, public relations or marketing reasons. What we do has more depth than what you'll see on most sites.
You also exported your model to the UK in 2013 and the US in October 2014. Would you have done anything differently in retrospect?
Not much, it's gone well with each of our launches. One of our team went over and trained up the UK team about how the platform works and how we work as an editorial team. We sent four people to the US in two batches for a four-month period so they were really able to train and help support the launch. Wherever we launch, we'll do a similar thing. The quality of the content has to be consistent so that we can move copy around and share it with other countries. We can't have some countries being weak because they don't operate to the standards we expect.
Which countries do you hope to spread to soon?
We have a few more to launch so we'll have about six or seven sites. Our aim is to set up in different languages including across Europe – in Germany, France and Spain – but that involves our being approached by local journalists. We wait until they contact us and ask us to partner with them.
But before we work with journalists in another country, we need to see if we agree on a set of values around serious journalism, such as getting things right, checking facts and adhering to our code of conduct and our charter.
We're not seeking to launch lots of sites just for the sake of it. We're not McDonalds or KFC, trying to sell many franchises. We want locally employed editors who can collaborate with academics and researchers in that country. This means we can work across different territories as one global virtual newsroom, which allows us to tackle global issues, such as food, water, health, energy, human rights, migration issues and so on.
Can you talk more about your goal of creating a global newsroom?
If you take something like Ebola, for example, most of the reporting is done globally by news organizations from first-world countries. To a certain extent, they define the scale of the problem and report back to their domestic audiences about whether they should be concerned or not. We want to make sure that researchers explain why there has to be more of an African approach to the way we work with tackling [Ebola or other big problems] and how we might work towards solutions by engaging local people, rather than having people rush in and see if they can quickly fix the problem and then move out. So it's a kind of re-balancing of the way in which we understand problems and their range and complexity. That is often not characterized in the reporting from the western media.
What advice would you give to people who want to also start up an innovative media project?
You need to have clear differentiation between what you do and what others do. You have to have a clear message and what you do must resonate. The second thing, it's all in the quality of the execution, so quality, reliability and adherence to standards are important. The third thing that's really worked for us is social media – a lot of people help get our message out. And the last reason it's taken off for us is that we are free, and – through Creative Commons – that has allowed us to move content in a very fast way around the world.
So, you have to: get a good idea, execute it well, tell people about it, and be very focused on what you do.
For more about innovative digital sites or news services, take at look at onMedia's interviews with Syria Deeply's founder Lara Setrakian and with with Mark Little from Storyful, a social media news service. 
Interview by Lesley Branagan, edited by Kate Hairsine
(The interview has been edited for brevity and clarity).