Search Results for Tag: natural disasters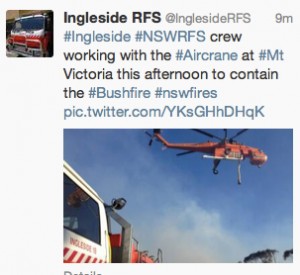 The extensive bushfires in the Australian state of New South Wales have made global headlines in the past week.
Social media, particularly via the Twitter hashtag #nswfires, is serving as a way for media and emergency services to post updates, but also for users in fire affected areas to document and share information, experiences and photos.
A number of bushfire photos also went viral via social media. For example this shot of exhausted firefighters resting on a road.
https://twitter.com/theage_photo/status/391186566095196160
On YouTube, this helmet camera footage posted by the Blackheath – Mt Victoria Rural Fire Brigade shows the extreme conditions firefighters are facing.
Australia's public broadcaster, ABC, plays an important role during natural disasters and emergencies such as bushfires, to keep communities accurately informed – particularly through their local radio network.
That's a huge media development topic to explore on its own, particularly for national media networks in developing countries seeking a model for informing and communicating with audiences during natural disasters.
For now though, what caught onMedia's eye was the ABC's use of tools such as Storify and ThingLink to help visualize stories on their live bushfire blog.

read more
Date
Wednesday 2013-10-23