NYT scrolls down the South China Sea
The New York Times "Snow Fall" multimedia feature is one that onMedia has mentioned in dispatches several times and most recently in our interview with Dr David Campbell discussing his research into visual storytelling for World Press Photo.
"What Snow Fall indicates, is that in 2013, major media organisations are catching up to what the web does and are starting to present their information in ways that are much more friendly to digital spaces, and therefore more accessible from the huge range of devices you can get online with."

The NYT has since employed the Snow Fall scrolling style of design in a number of features and the latest one produced for the New York Times Magazine is worth a look.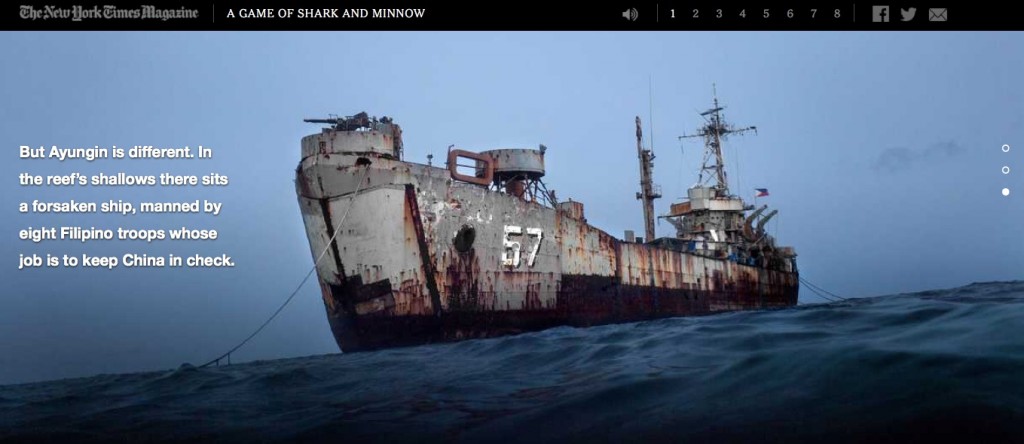 A Game of Shark and Minnow   documents the geopolitical battle over the reefs and islands forming the Spratly Islands in the South China Sea – namely between The Philippines and China. But the story is brought vividly to life by taking us inside a WWII era naval ship aground on Ayungin Shoal (105 nautical miles from the Philippines) that is home to several Filipino marines defending a submerged reef in the name of their country, and who are simply trying to survive.
It's an absorbing story written by journalist Jeff Himmelman. A classic magazine #longread with excellent photography by Ashley Gilbertson who also shot video. But it's also well suited to the scrolling style of visual storytelling developed in-house by the NYT that has gone on to influence other publications.
Graphics, looping video clips (or "moving stills" as the NYT likes to call them) and photographs are introduced at the appropriate points to complement the text. The story is also divided into chapters with a straightforward means of navigation from the menu at top of the screen.
If you're interesting in working with a tool that can replicate the scrolling design style, Scroll Kit might be something that you are looking for.
And the background to A Game of Shark and Minnow also makes for good reading.
Author: Guy Degen
Date
Wednesday 2013-10-30
Leave a comment