Inside the Za'atari refugee camp in Jordan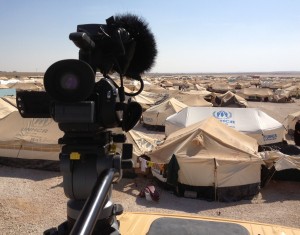 It may be considered a "temporary" home, but the sprawling Za'atari camp for Syrian refugees is now Jordan's fourth largest city. And it's a complex city. Not only does it provide a safe haven for people who have fled the conflict in Syria, but it requires all of the resources, services and amenities to support a large population – from water and electricity to hospitals and schools to supermarkets and cafes.
When I visited the Za'atari camp just over a year ago, there were only 30,000 refugees. That was staggering at the time. Now it is home to approximately 120,000 people.
As the conflict in Syria continues, two new media projects are documenting life inside the camp.
In past week the UNHCR has started a new Twitter feed for the camp: @ZaatariCamp.
Welcome to Za'atari. This account is the official voice of Jordan's largest refugee camp – and we've got plenty of stories to tell.

— Za'atari Camp (@ZaatariCamp) October 24, 2013
So far there have been tweets about statistics, photos of life in the camp, short video clips and links to stories published about Za'atari.
Since the camp opened in 2012, a number of Twitter feeds have proved useful for updates, including UN representatives such as Andy Harper @And_Harper. The new @ZaatariCamp is definitely worth following and adding to Twitter lists relevant to the Syrian conflict. It'll be interesting to see how it develops. For example, will the UNHCR ask refugees to tweet?
Of course there has been no shortage of journalists, celebrities and politicians visiting the camp in northern Jordan. But trying to work in the camp as a journalist is challenging. For example, getting inside and obtaining permission to film; getting around in what is literally a huge tent city; coping with the heat and keeping equipment free of dust (a losing battle). And then there is the reason why you go there in the first place – the story. To ask questions, and to listen.
It's a humbling experience to say the least, particularly to document the stories of new arrivals – traumatized by war and exhausted after their border crossing.
And now as thousands of refugees face the prospect of a second Za'atari winter, tents are starting to be replaced by pre-fabricated shelters or "caravans", and the camp is taking on a more permanent look.

Australia's Special Broadcasting Service (SBS), a public and commercial funded broadcaster, is currently producing a multimedia documentary project within the camp called Exit Syria – Diaries from Za'atari.
The four week project began on October 16, and is documenting the lives of three refugees: Amira, Khaled and Jum'a.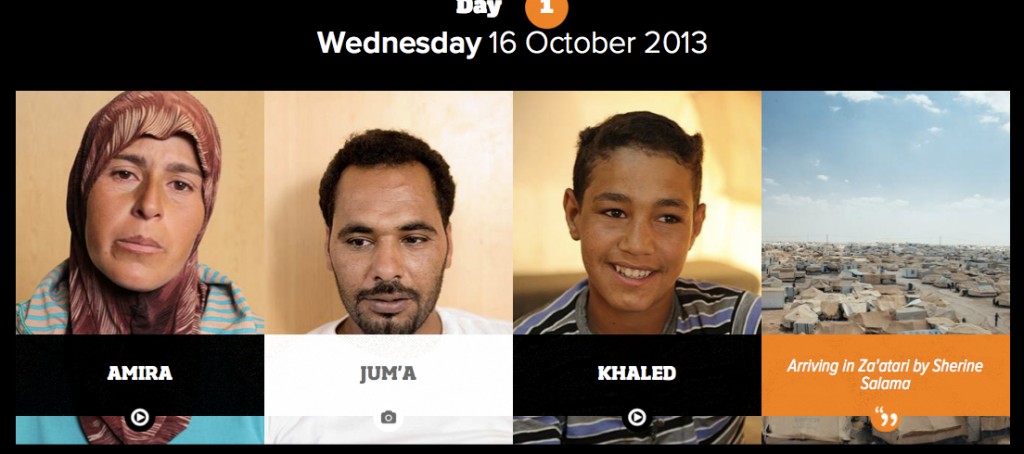 Every day text, photos, audio slideshows or video stories are published which certainly gives the online documentary the feel of a diary or blog – a story unfolding. There is also an observational or cinéma vérité style at work in some of the video stories, particularly in documenting the plight of Amira.
On the SBS website, filmmaker Sherine Salama says, "It's not a fly-in journalist kind of approach where you take a grab and fly out, or do an interview and fly out."
"We're actually getting to know the families."
The project features a design that lets you scroll down through the stories (similar to what the NYT has championed in its multimedia features) and a straightforward calendar style navigation bar across the top of the screen.
Exit Syria is well worth a look – particularly as an online project that is publishing stories from the field. Moreover a number of the stories published such as a wedding in the camp and a night time walk around Za'atari with UNHCR camp manager Kilian Kleinschmidt make the project quite absorbing.
Exit Syria stories can be shared via email, Twitter, Facebook and LinkedIn, and you can make comments under each story. However one thing we searched high and low for: the project does not seem to have its own Twitter account. This might have been interesting to enable conversations directly between participants, journalists and the audience. SBS describes the project as a "real-time interactive documentary".
Author: Guy Degen
Leave a comment