Hackdays and digital product managers: a conversation with the Global Editors Network

By Natalia Karbasova
In order to boost innovation and encourage new strategies about news presentation, the Global Editors Network (GEN) and Russian news agency RIA Novosti held a Hackday on Dec. 10-11 in Moscow. Called "Hack the Newsroom," the event brought together three-person teams made up of an editor or journalist, a developer and a designer from national and regional Russian media organizations.
It was one of a series of such hackdays held at some of the globe's leading newsrooms this year. The aim is to help newsrooms develop new approaches to producing and presenting editorial content and think creatively about apps, interactivity, data visualization and newsgaming projects.
"There are a lot of innovations in newsrooms, but they don't often come from the editorial side," said Antoine Laurent, GEN's deputy director. "To deliver innovative content on a regular basis, you need to have a direct connection between the technical and editorial sides. Innovation comes from collaboration."
This time, it was all about big data and data journalism. Participants had to turn open data into compelling stories. As a result, participants came up with projects mostly based on national data.
You can watch the presentation of the final pitches here (in Russian). The winning project was developed by the team from the Moscow-based magazine "Bolshoi Gorod" ("Big City"). They presented an interactive map of Moscow showing where city residents spend their free time based on based on 126,000 of check-ins by users of VK, a popular Russian social networking site.
In this interview, Laurent told onMedia why he thinks data journalism is here to stay, why GEN is holding a series of hackdays and how journalists will need to manage digital content in the future.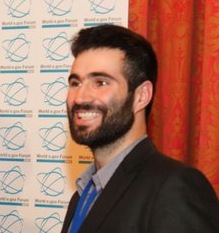 What's special about this particular series of hackdays?
Normally, hackdays are coding marathons. But this is not what we asked teams to do this time. We wanted to make it more collaborative. It's about having ideas, testing them out, coding and developing a prototype. It's also more about getting people to work in a new way, although the outcome is important too.
A normal hackathon is open to everybody. Teams can be formed during the event and the task would be defined. We were opposed to that since while this kind of format can spur new ideas and generate new networks, afterwards everybody goes back to where they come from. For us, it was very important to invite teams made up of members of one media organization.
Why is that?
We're not just focusing on data journalism but rather on building multidisciplinary teams. In addition, we expect some kind of investment from the media. It doesn't have to be big and the direct return on the investment isn't clear. We just ask the media to work with what they have, which means journalists, developers and designers. And participants did make an investment since they sent people for two full days. In the end, it's about bringing about internal organizational change.
Why do you need to change the internal organization of a newsroom?
When a data team is integrated into a newsroom, it works better in terms of content quality and frequency. We see a lot of media organizations working with external data agencies, but I think it's better to have people inside the newsroom because they can produce regularly. You avoid one-shot projects, like when you do a big data visualization project and then forget about data journalism again for another six months. You can even have a small internal agency inside a newsroom, maybe just one data journalist. This could have a good effect on the newsroom because staff will be talking about it.
Do you consider data journalism a trend that will be around for a while?
Conducting investigations with large amounts of data is a trend that is going to stay and actually, it's quite old. Computer-assisted reporting has been around for a long time. Data-driven journalism is about user interaction, apps, games and visualizations. For example, what you see at The New York Times is that people doing data journalism pieces are integrated into the interactive news team. So I think data journalism is a very important trend, I'm just not so sure about the name.
So it's more about the content than about a data-driven approach?
If journalists start to work with developers, they'll be able to produce any kind of digital content. The whole point is for journalists to learn how to work with programmers and become a kind of project manager. This is one of the biggest needs in newsrooms. It's about changing the way you look at the content. Many people tend to get obsessed and want to turn journalists into developers, but I think the most important point is that journalists learn how to manage a digital product. The content is a digital product, so you need a product manager. Either a journalist becomes a product manager or you put one in charge of your team. It's then that you turn to developers and designers.
About the Global Editors Network:
The Global Editors Network (GEN) is a nonprofit, non-governmental association committed to the principles of innovation and information sharing in the newsroom. Among other things, the organization offers Data Journalism Awards to honor the outstanding work of data-driven newsrooms worldwide. GEN's program called The Editors' Lab is a global series of Hackdays hosted by some of the leading newsrooms in the world. This year, Hackdays were held at The Guardian in London, Le Parisien in Paris, Yahoo in the US and RIA Novosti in Moscow. The last two national Hackdays of this year will be held at VRT (Flemish Radio and Television) in Brussels in December and at El Pais in Madrid in January. After that, the national Hackday winners will meet for a final international Hackathon to be held in Barcelona in June during GEN's News Summit 2014.
Leave a comment