Cambodia sets pace with open data
Accessing reliable data can be difficult, especially in the developing world. Good data might not exist in the first place, and if it does, it can be hard to come by or deliberately kept under lock and key by the powers-that-be. In Cambodia, an open data site is putting data in the hands of journalists and researchers – in fact, anyone who wants it – in an attempt to shine a light on a whole variety of issues.
Open Development Cambodia (ODC) is the first of its kind in southeast Asia. Launched in 2011, it makes a wide variety of information related to the country's development easily accessible to anyone with an internet connection.
ODC was the brainchild of Terry Parnell, a long-time American resident of Cambodia. Parnell works with grassroots groups on issues such as the environment and human rights at the East-West Management Institute. Her job means she regularly receives information from people on the ground from all around the country. Because of this, she came into possession of a veritable treasure trove of data, which she wanted to share with others.
Parnell felt Cambodia, which had embarked on a path of rapid development after decades of civil war, needed a place where people could find unbiased data presented in a neutral fashion, without any kind of agenda.
"She didn't want to tell people what to think, but just give them the information," said Penhleak Chan, ODC's research and volunteer coordinator. "It wasn't about telling people what to do with the data, but to have their decisions informed by it."
Open data
ODC is part of a burgeoning open data movement, whose goals are akin to other "open" movements, like open source or open content. The idea is to make certain data available to anyone and searchable and allow them to use and republish it as they wish without restrictions such as copyrights, fees, licenses or re-use limitations.
Many national governments have joined the open data movement, creating websites to publish much of the data they collect. A good list of open data catalogs can be found here.
Information in Cambodia is especially hard to come by. This is because many records were destroyed during the conflict and bloodshed that wracked the country for so long. Plus, most media outlets have tight links with the government and the information they present is often selectively used to back up a certain viewpoint (that is, when the media present bother presenting information at all).
While Cambodia is one of Southeast Asia's fastest-growing economies, incomplete and inconsistent data is hindering development. Add to that all the environmental and social challenges the country faces, and it's not hard to see why journalists, activists, investors and others need to be able to get their hands on reliable information.
ODC's data offering
ODC's site features information on Cambodia's laws and regulations, profiles of companies investing in the country, detailed briefings on economic sectors, oil and gas development, economic land concessions and natural resources. The site's editors comb the local press and put article summaries and links to publications online five days a week.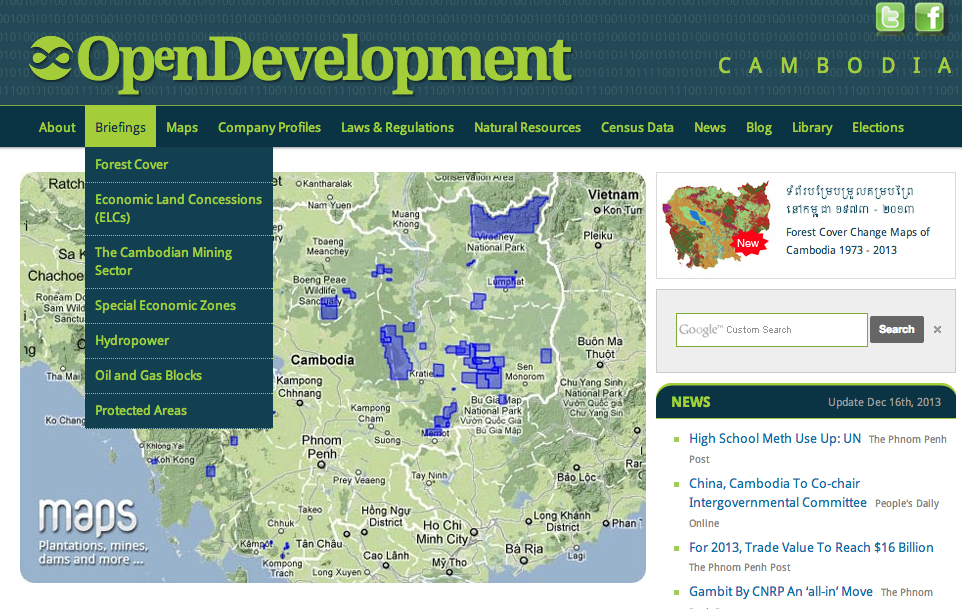 The 12 staff members – web designers, editors, mappers and researchers – along with a handful of volunteers pull data from the Cambodian government, international organizations, the news media and research groups. The information sources are always presented, compared and contrasted with the goal of creating a data picture that is as accurate and transparent as possible.
One of ODC's most popular features is a series of interactive maps with information ranging from forest cover change and election results to mining concessions and oil and gas blocks. The visuals allow users to select data sets they want to compare and find relationships between them.
Since its founding, the site has seen over 268,000 unique visitors from 203 countries. It averages over 35,000 page views per month. This more than doubled in July, when the ODC set up a series of special pages to cover controversial National Assembly elections, and more than 72,500 people came to the site.
Visitors include writers for The Guardian, TechPresident and for the New York Times. Groups such as the UN, the Mekong River Commission and the International Land Coalition have also accessed info to use in their research and presentation. And perhaps somewhat surprisingly, ODC staff has heard about the Cambodian government using the site.
As ODC has become better known in Cambodia and beyond, it has started looking beyond its own borders. It's cooperating with DW Akademie in January on a data journalism workshop (applications close December 31 – see here for more details). And a regional workshop earlier this year brought together open data fans from Thailand, Vietnam, Laos, Myanmar and China with the idea of starting an Open Development network and becoming sister sites.
But, staying true to the ODC philosophy, Penhleak Chan stressed that it's up to the groups in each country to figure out for themselves how they want to do things. "We want to be a mentor for these groups, not tell them what to do," she said.
Written by Kyle James, edited by Kate Hairsine

Leave a comment